Ambition is a slippery slope for me. When my over-active imagination collides with my perfectionist tendencies to create any kind of objective, I usually end up conceptualizing an insurmountable goal and then emotionally pummeling myself for not achieving it. Because there's nothing quite like being bested by your own imagination.
Anyway, I am never more at risk for being slaughtered by my own ambition than when it comes to self improvement. For me, self improvement is endlessly cyclical–like a sad, creaky hamster wheel.
I am always somewhere on this cycle. In fact, just two weeks ago, I happened to be at the "attack goals with frenetic vigor" place. It was at that time that I decided to go running for the first time in weeks and then perform the calisthenics equivalent of bench pressing my entire, fully furnished house. In short: I made the fatal mistake of trying too hard (Let this be a lesson to you, kids.)
While it will not surprise you to learn that I injured myself along the way, it certainly shocked the shit out of me. I had forgotten one of the most important lessons of self improvement: Exercise does not like to be attacked with full force after weeks of half-assed efforts. Exercise does not appreciate being neglected. Exercise will cut you.
As a result of my dangerously enthusiastic workout routine, I pulled probably every muscle in my back and embarked on an entirely new journey I like to call: getting high-fived in the face by pain. This journey always walks me through the same three steps.
The first step is pretty benign: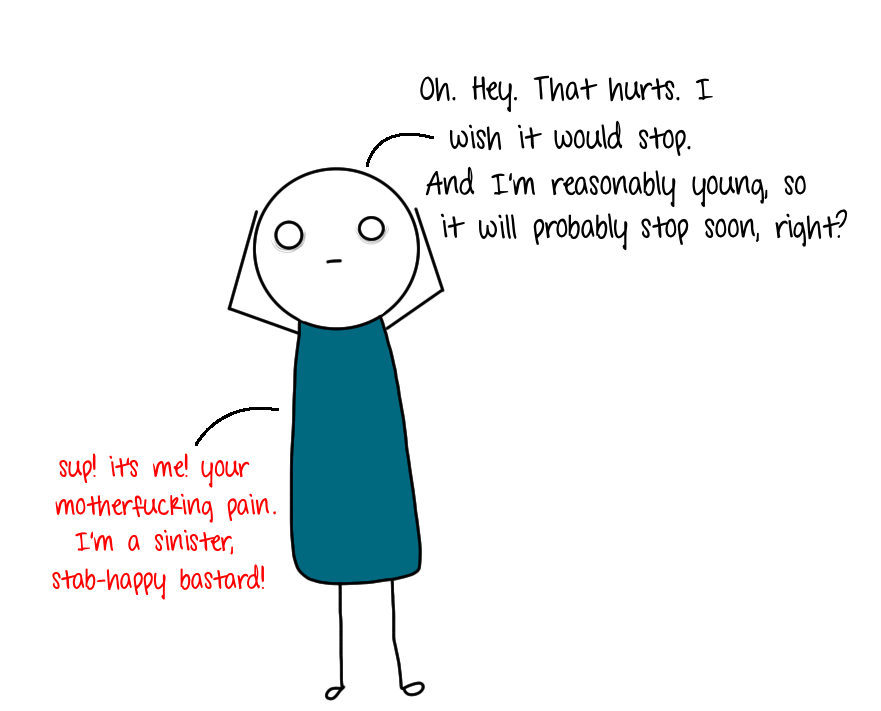 (If at this moment, you're like 'Wait. The pain is talking to you? I think that's schizophrenia.' Shut up, because no, it's not. And also, in my defense, this is just a dramatization.)
So after a few days of passively observing the pain in its new habitat (my entire, fucking torso), I progressed to the obvious next step: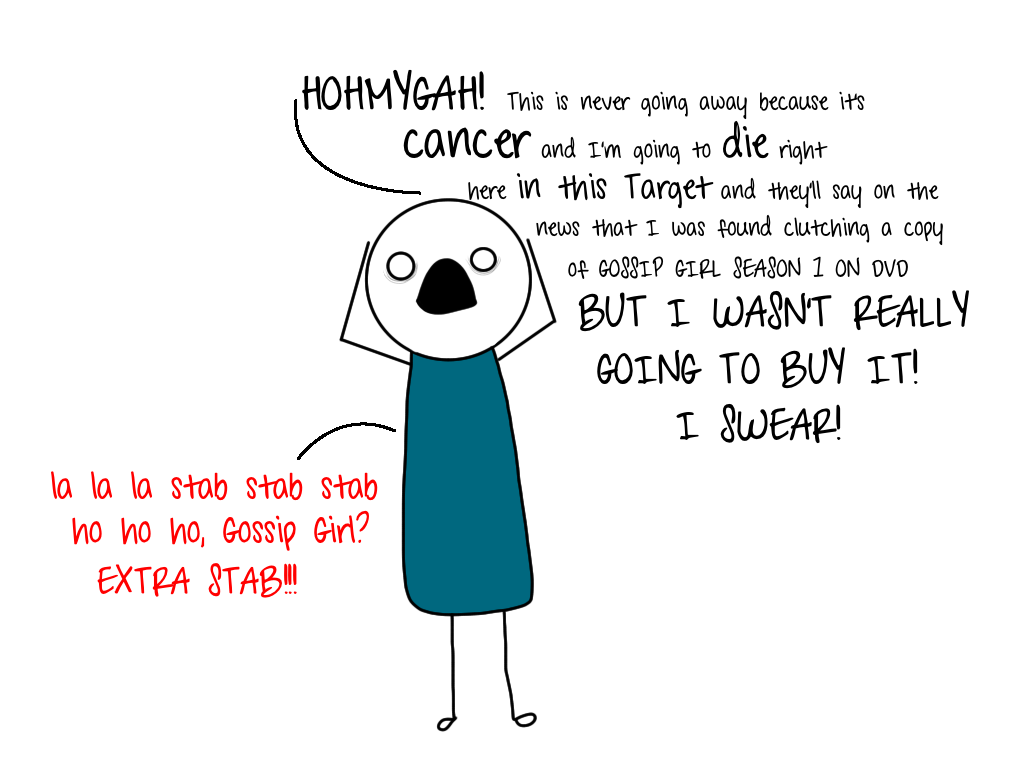 I finally broke down and went to see the doctor last week, and GUESS WHAT!?! It's not cancer (probably. I mean, not yet?) I have in fact pulled a few muscles, and so I'm taking it easy and waiting patiently (HAHAHAHAHAHAHAHAHAHAHAHAHA) for them to heal.
Which brings me to the third and final stage of any illness or injury: the part where you forget what not having the illness or injury feels like and settle into an uncomfortable but hopefully-not-lasting friendship.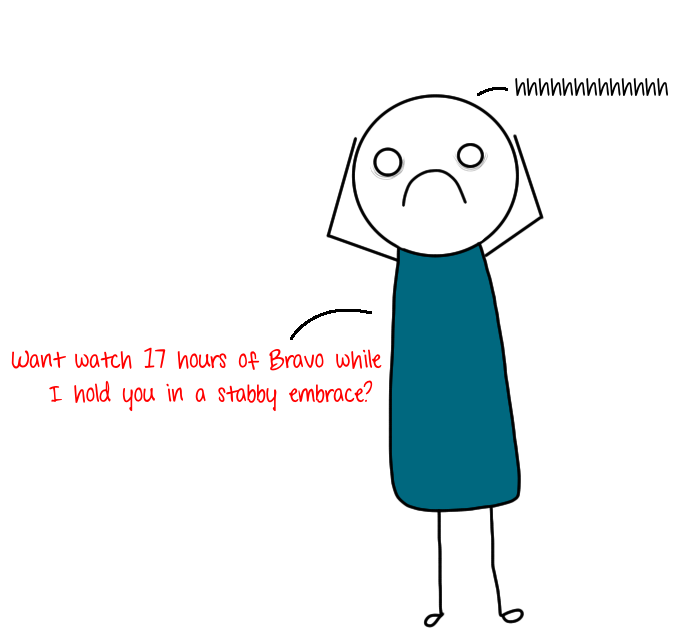 But the good news is that getting high-fived in the face by pain has ushered me safely into my favorite stage of the self improvement cycle: the "eat Cheetos in yoga pants" stage. AND since I am physically unable to lift my own TV remote, it will be a long time before I'm stupid enough to attempt any kind of self improvement efforts again. At least a few weeks anyway.