I don't know if you know this about me, but I don't have any children. Not yet anyway.
Sometimes, I feel like an imposter, because I spend a lot of time romping around the internet, reading the blogs of stay at home moms and being like "You hate cleaning, too?!?!" or "You're tired, lady with five kids? I'm tired! Ha ha! WE'RE THE SAME!"
But we are not the same. No, we are not.
In all likelihood, a woman with five kids is tired because she's RAISING FIVE KIDS. But I'm tired because I had to dress myself AND brush my hair today.
Parents: Even if you have one child and you're doing the bare minimum as a caregiver, your day is 150 times more taxing than mine.
I respect the crap out of parents. But I'm also kind of enjoying life on my side of the fence. You know, the side where, if I get out of bed in the morning, great! And if I don't, no one starves.
Lately, though, the Mr keeps threatening to destroy the delicate balance of my life.
He wants a baby.
Now, I like babies. A lot. I coo over babies in restaurants. I lunge after baby clothes in stores. I've even already named and renamed our pretend children.
So, you'd think I'd be psyched and say, "It's baby time! Let's DO IT!" (Not "it" it, but you know, let's go get us a baby) now that the Mr wants to start a family.
But I can't be psyched, because I am pathologically afraid of pregnant woman.
I like to call this disorder: PREGNOPHOBIA.
When I find out a friend is expecting or I meet a pregnant woman at a bridal shower, I try to give the appropriate reaction.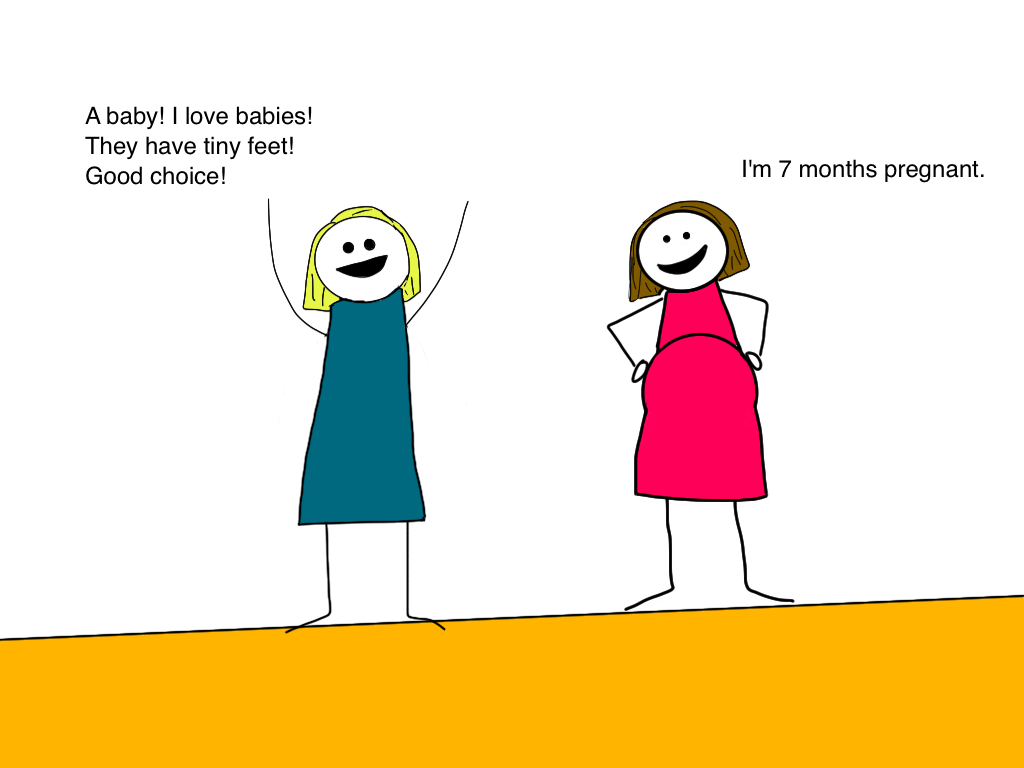 In my head, though, the interaction goes a lot more like this: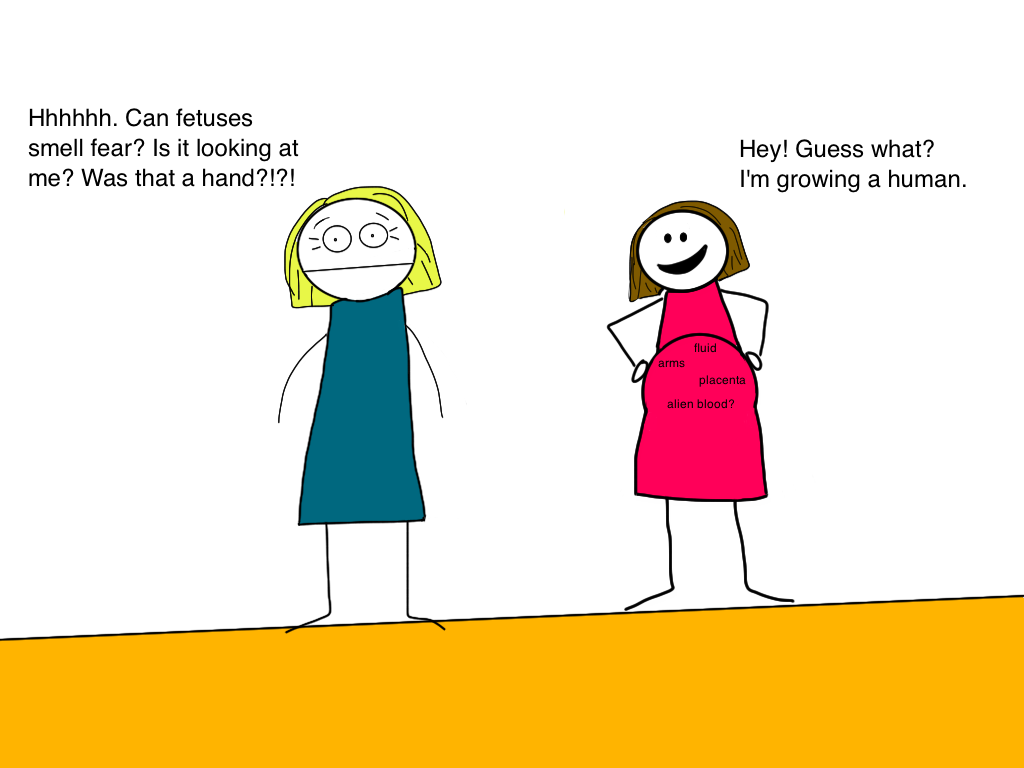 And I end up having to fake a head injury on the spot just to get away from my own awkward laughter.
For the record, faking a head injury mid-sentence is pretty tough to do, but if you suffer from pregnophobia, too, and you find yourself needing to flee from a pregnant woman, I recommend you squint your eyes and chew on your own tongue a little.
Pregnant women and mothers of the world: Please don't be offended. It's not that I dislike you. My own mother was a pregnant woman once–four times actually.
I'm just scared.
I cannot wrap my brain around pregnancy.
When you get pregnant, you are physically afflicted for 40 weeks. Even drinking bleach isn't that toxic. If you drink bleach, you're going to get sick or you're going to die. Either way, though, I have to believe it runs its course pretty quickly.
But 40 weeks! That is a long time. And the whole time, there's all kinds of CRAZY stuff going on in there.
And I know this, because pregnant women don't spare you the details of their pregnancies. They want to tell you about seeing the baby's limbs as they get farther along. Hands and feet apparently move across the belly, and you can see them through the skin!
The pregnant women I have talked LOVE THIS! But all I can think when they tell me about this is: THERE IS SOMETHING TRAPPED INSIDE OF YOU AND IT IS ALIVE!
And in my case, it probably won't be a baby. With my luck, this thing will be trapped inside of my uterus for 10 months: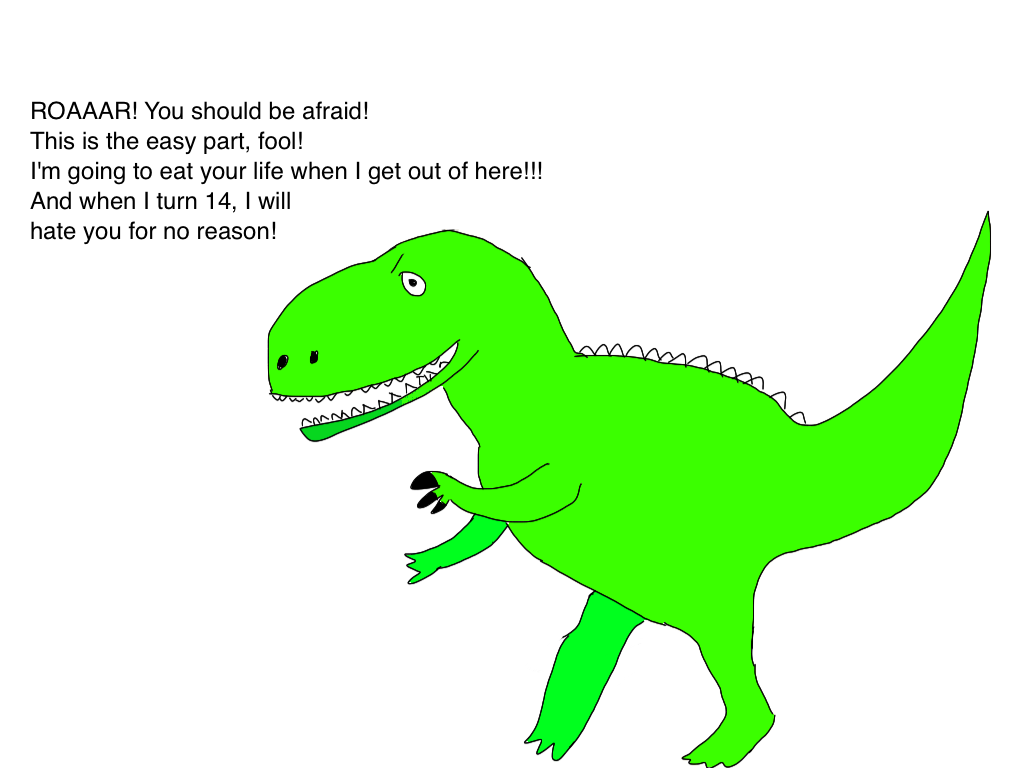 Yeah.
I will probably be the first woman in history to be pregnant with a web-footed T-Rex.
But growing a dinosaur inside of my body, while uncomfortable and frightening, isn't even the part that scares me so much I might pass out.
Because after a baby wanders around inside of you for 10 months, changing your body and eating your food and sometimes making you sick, THEN you have to deliver the baby (or the T-Rex, in my case.)
I have been so afraid of this process for so long that it has taken on a life of it's own in my imagination.
Sure, I've seen flashes of delivery scenes in movies, but I've never actually been there for all of the 648 hours that it takes to make a delivery happen. And assuming I do deliver a T-Rex with webbed feet, it's going to take some heavy-duty equipment to get that thing out.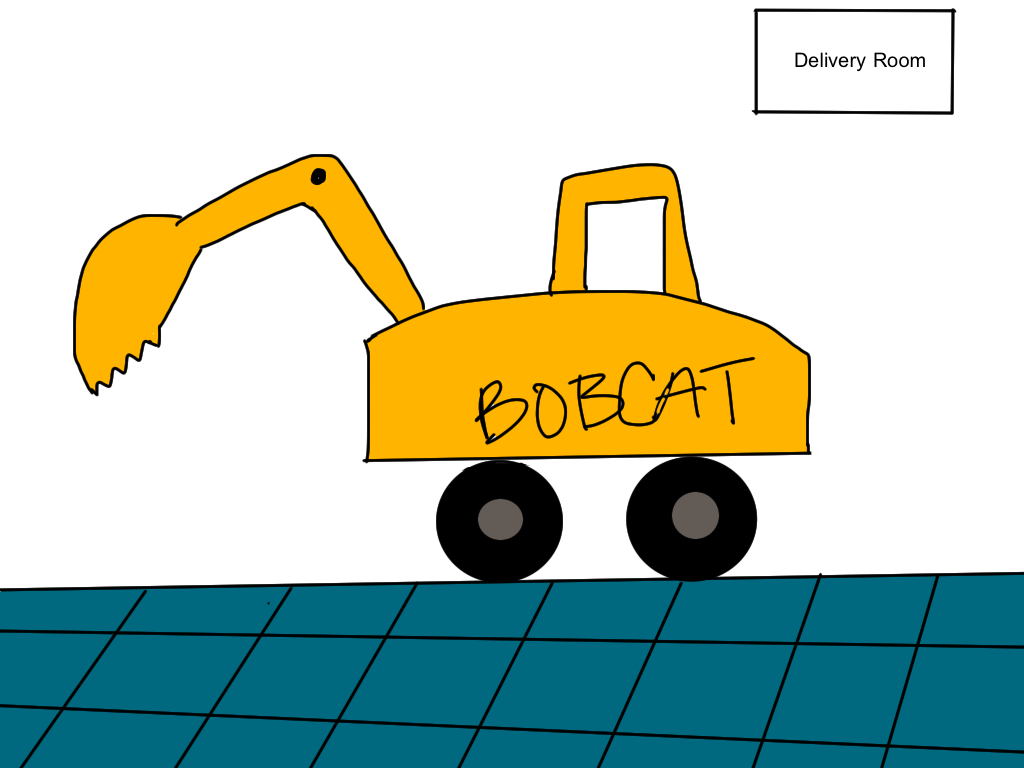 And whether you deliver a dinosaur or a human baby, here's what I'm pretty sure happens during delivery:
And it takes three shaman and unicorn tears to bring you back to life.
And then, I imagine, you have to be sworn to secrecy or your memory is erased or something, so that other women won't find out about what happens in that delivery room. I know my friends' memories have been tampered with, because after their babies are born, their descriptions of the delivery are always pretty vague. Like "Oh, I was in labor for forever" or "They had to sew me back together."
But as I think my drawings have shown, I have a pretty firm grasp of what's going on, and I will not be fooled by their efforts to downplay the delivery situation.
I've tried to explain all of this to the Mr, but he is not impressed with my pregnophobia. He keeps trying to sooth away my fears by saying, "Hey, it'll be OK. I'll be there"
REALLY, MR? I'm going to grow a human/possible dinosaur in my body for 10 months, and you're going to "be there." Pfft.
Needless to say we've reached a bit of a stalemate for the time being. I'm not throwing away my birth control this month. But I feel certain that the 21st Century household has been contaminated with full-blown baby fever.
Sometimes, I even think the fever is overtaking my pregnophobia.
And even though I try not to take it personally when I pass pregnant women in the grocery store, I feel like these women know my house is infected with the fever and that I am weakened by the sickness. Because every now and then, just for a second, I'm sure they are staring at me, and I can feel them willing me to join them. I think pregnant women know their bellies are load weapons–full of babies!–to a girl struggling with baby fever. And ever so softly I can hear them telling me to cast my pregnophobia aside. And I want to yell, "Hey! Don't point that baby at me!"